It was another fun week of "Passing the Sauce!" I was thrilled to see many posts getting a few comments! It's really wonderful to see so much giving with this Linky. Remember you will receive what you give back.
So keep on passing of the sauce bottle around – keep commenting and sharing! Keep the sauce flowing and the community will be a growing!
I have absolutely enjoyed meeting new bloggers and linkers and welcoming old friends back as well.
This week, we still have the absolutely divine co-hostess, Rhyming With Wine with us.
It is Mother's Day this Sunday in Australia and I have linked my post – "What to buy for Mother's Day when You are not allowed at Target? More chocolates PLEASE!
Back to Linky business, #PasstheSauce Linky, like all the sauces in the world, welcomes all sorts of posts, from crafts,  reviews, rants, DIY, parenting, stories, poetry, humour, just about anything and everything. Remember this is all about community and spreading the #blogginglove.
So dust off those cake crumbs, please comment on the Host post, the Guest Co-Host and the post before yours, and of course any other posts you would like to read and comment. If you do not put the badge or comment, you will not be eligible in being featured. It is not about the linky, it is all about the community. You can't blog alone!
THE MOST VIEWED POST WINNER
Our most viewed post Winner this week is Practical Mum – Are you Smarter than Your Preschooler?
Swapna shares with us the information she learns about from Preschool books, for 4-5 year olds! Dumbstruck or fascinated? Go on, take Swapna's Quiz if you dare!
Congratulations, Swapna, please take your badge  crown!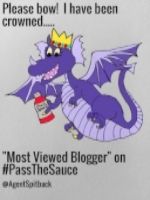 #PasstheSauce Picks of the Week
The Agent's Picks :
R is for Hoppit – The Princess and The Toddler – who are we to ever challenge the Toddler's logic on all things Princessy? We all have to giggle and bow to her Royal Toddlerness as she reminds us of the most important Princess Question to ask : "Can she dance with a dress?". A hilarious post that will definitely send you off in fits of laughter, guaranteed.
Practical Parenting – Top Ten Reasons to let your Kids Fail – An insightful and great post of how failure can be a great impetus for growth and change. Sometimes, we just need to stand aside and watch our children fail and support them in learning from that failure.
Rhyming With Wine's Picks :
Thinking Out Loud – Is Social Media Finally Becoming Inclusive? – This post opened my eyes to recent advances in social media, which make the images that we share now more accessible to visually impaired people. Please have a read and you can follow Sassy's really quick guide to enable these settings on your own tweets too!
Queen of my Castle – Things I will never do for my kids. Totally had me in a fit of giggles from the outset, and then nodding and reaching for my Mummy Pom Poms! Just brilliant! Check it out if you haven't already!
The Rules
Please link up ONE post, old or new.
They can be on any subject except giveaways.
Please use the linky badge on any posts you link up.
Please comment on the post before yours and also on both host and co-host posts.
Please comment and share the blogging love. You will only receive back what you give out, except for Cake.
The linky will run from 11am (GMT) Tuesday to 11am Thursday. We will share any posts that have been tweeted to us using the hashtag #Passthesauce and our twitter names  @AgentSpitback and @rhymingwithwine.
If you link up, you are agreeing to be notified of future link ups.