A big delicious sauce-y welcome to all of you! Please, welcome, pull up a chair, get ready to play "Pass the Sauce"…If you're left holding the sauce, you win! It is with absolute pleasure that I welcome our guest co-host, the absolutely divine genius of all things rhyming, Rhyming With Wine.  It was #bloglove at first rhyme for me.
In other news, this week I will be linking up Absolutely Prabulous Post as my Host Post. Why, you ask? Prabs has been an absolute star in showcasing her guest posts, rather than her own posts for the last two weeks and I think it is a crying shame that we did not get to read any of her brilliant writing. So in true Agent Spitback "trendy" style (come on at least give me that, ok?), I have decided to give my host post spot to her this week, a blogger whom I admire with all my heart and that's not just because of her brilliant writing. Prabs, thank you so much for co-hosting.
So for this week, please show some blogginglove to the GUEST CO-HOST & SPECIAL GUEST HOST POST. So there is no HOST post from me this week.
On the home front, there has been much blogging excitement as Agent Spitback's "My Daughter Wants A Penis" was re-published on Babble and I am excited and honoured to be a Babble Contributor! (Babble is the official Disney US Parenting Website). Yes, this time much ice cream was eaten in supposed festivity!
Back to Linky business, #PasstheSauce Linky, like all the sauces in the world, welcomes all sorts of posts, from crafts,  reviews, rants, DIY, parenting, stories, poetry, humour, just about anything and everything. Remember this is all about community and spreading the #blogginglove.
So for now, it's business as usual, so dust off those cake crumbs, please comment on the Host post, the Guest Co-Host and the post before yours, and of course any other posts you would like to read and comment. If you do not put the badge or comment, you will not be eligible in being featured. It is not about the linky, it is all about the community. You can't blog alone!
THE MOST VIEWED POST WINNER
Our most viewed post Winner this week is Caring In the Chaos – Ending A Friendship – a beautiful, honest and poignant letter on when you have to end a friendship. Congratulations, Nadine, please take your badge  crown!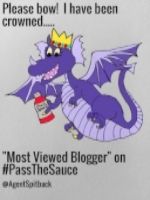 #PasstheSauce Picks of the Week
The Agent's Picks :
Our Children – Death of A Pet – Kerry Ann writes with beautiful sensitivity on a topic close to my heart as we are huge animal lovers in the Agent Household. She asks how can we help our child grieve?
Craft Invaders – Fruit Spirits : Raspberry and Mint Gin – Sarah is an incredibly talented blogger who can make anything look good! Raspberry and Mint Gin – who wouldn't love this recipe?
Prab's Picks :
Just Saying Mum – But Mum Is there Wifi?  Helen's post had me laughing. She took a popular parental moan about kids and phones and wrote about it from such a clever angle. I never in a million years would have thought of the Chanel bag analogy. The MTV video bit and the tan line on the torso…the whole thing was hilarious. This woman is one to watch #JustSaying
Mess and Merlot –  40 before 40 – bravely took on a 40 point list post. It was a gorgeous read from start to finish with a brilliant series of choices, many of which I related to. Charlie is one of my fave recent finds too and again one to watch and has such an endearing thoroughly likeable style of writing.
The Rules
Please link up ONE post, old or new.
They can be on any subject except giveaways.
Please use the linky badge on any posts you link up.
Please comment on the post before yours and also on both host and co-host posts.
Please comment and share the blogging love. You will only receive back what you give out, except for Cake.
The linky will run from 11am (GMT) Tuesday to 11am Thursday.
We will share any posts that have been tweeted to us using the hashtag #Passthesauce and our twitter names  @AgentSpitback and @rhymingwithwine.  If you link up, you are agreeing to be notified of future link ups.